Born on Wednesday 9th October 1895 Lurgan, County Armagh.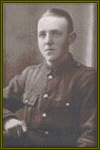 Private (18278)
'C' Company
14th Battalion
Royal Irish Rifles
Billy McFadzean was a member of the 1st Battalion (Ballynafeigh and Newtownbreda) East Belfast Regiment Ulster Volunteer Force before joining the 14th Rifles
He was detailed as a bomber in his company, one of those who went over the top carrying canvas buckets filled with hand grenades. His physique marked him out for such a role: he stood six feet tall, weighed thirteen stone and had been an enthusiastic junior rugby player, lining out for Collegians RFC.
In a letter home from the front he writes:
You people at home make me quite proud when you tell me "I am the soldier boy of the McFadzean's" I hope to play the game and if I don't add much lustre to it, I certainly will not tarnish it.
Just before 7am on the morning of the Somme Offensive Private McFadzean was with the bombers from 14th Rifles on the edge of Thiepval Wood waiting for the 'big push' to begin. They were the immediate support to 109 Brigades assault battalions. The men's nerves were shredded as the British bombardment reached its shrieking height and they prepared to attack.
On Saturday 1st July 1916
Near Thiepval Wood, France.
In a concentration trench, a box of bombs being opened for distribution prior to an attack slipped down into the trench, which was crowded with men, and two of the safety pins fell out. Private McFadzean, instantly realizing the danger to his comrades, with heroic courage threw himself on top of the bombs, which exploded, blowing him to pieces, but only one other man was injured. He well knew the danger, being himself a bomber, but without a moments hesitation he gave his life for his comrades.
William McFadzean was killed in the above action He has no known grave. He is commemorated on the THIEPVAL MEMORIAL Somme, France, Pier and Face 15 A and 15 B
Also Commemorated by: MEMORIAL STONE in the grounds of THE ULSTER MEMORIAL TOWER
NEWTOWNBREDA PRESBYTERIAN CHURCH
FIRST LURGAN PRESBYTERIAN CHURCH
COLLEGIANS RFC
CASTLEREAGH BOROUGH COUNCIL
William's father (also named William) was presented with his sons VC by King George V at ceremony held in Buckingham Palace on Saturday 28th February 1917, having been granted a third-class return ticket from Cregagh (East Belfast) to London. In presenting the Victoria Cross to William McFadzean Senior the King said:
"Nothing finer has been done in this war for which I have yet given the Victoria Cross, than the act performed by your son in giving his life so heroically to save the lives of comrades."
On Sunday 1st July 1917 in Newtownbreda Presbyterian Church, on the outskirts of Belfast, an afternoon service was held to pay respects to the memory of William McFadzean in what had been his home church. A tablet was unveiled on which were the words:
"Greater love hath no man than this, that a man lay down his life for his friends."
The Last Post was played, the congregation sang "O' God, our help in ages past" and the choir performed a beautiful anthem, a setting by Woodward of Tennyson's poem "crossing the bar."
William McFadzean's Victoria Cross was gifted by his brother and sister to the Royal Ulster Rifles Regimental Museum on 1st March 1980. It is stored by the Museum's bankers.
VC display at:
The Royal Ulster Rifles Regimental Museum
5 Waring Street
Belfast
County Antrim
Northern Ireland
BT1 2EW
http://rurmuseum.tripod.com
Admin




Posts

: 20


Join date

: 2010-06-30


Age

: 52


Location

: Belfast




---
Permissions in this forum:
You
cannot
reply to topics in this forum