Born on Tuesday 11th December 1883 Comber, County Down.
Edmund De Wind was educated at Campbell College, Belfast and he worked for the Bank of Ireland in Cavan as a clerk before immigrating to Canada in 1910 where he gained employment with the Bank of Commerce.
On 16th November 1914 Edmund De Wind volunteered to serve for King and Country. In an office in Edmonton he was attested for service with the Canadian Overseas Expeditionary Force.
The Medical Officer considered him fit after declaring that he (E. DeWind) can see at the required distance with either eye; his heart and lungs are healthy; he has the free use of his joints and limbs; and he declares that he is not subject to fits of any description.
On 29th May 1915 Edmund and his fellow recruits of the 31st Battalion (Calgary Regiment) left Canada for England aboard the SS NORTHLAND.
15th September 1915, after a few months training in England the 31st Battalion sailed for France. Private (79152) De Wind was with them serving in the battalions machine-gun section until April 1917 when he was transferred to officer cadet school, in Bramshot, England, with a view to obtaining a commission.
He accepted a commission in the Royal Irish Rifles and joined the Ulster Division on the Western Front.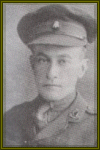 Second Lieutenant 15th Battalion
Royal Irish Rifles
21st March 1918: 04:40 am. The German army launch a storm of artillery on the Allied positions on the Western Front. High explosive and gas shells devastated frontline trenches and rear areas. Units were decimated in those first few minutes and survivors fought, at some stages hand-to-hand, to the death in swirling smoke and fire.
Operation Michael, the German attempt to knock the Allies out of the war before the American troops arrived in Europe, had begun.
The German army's ranks were swollen by the large numbers of German divisions released from the Eastern Front after the collapse of Russia.
The 36th (Ulster) Division was hit at 09:40 am, with their front line positions being overrun in short order. Three positions held out for some time, the first at Le Pontchu, where 12th Royal Irish Rifles held on until 15:30 pm. The second was on the Essigny Plateau, where a company of 1st Royal Irish Fusiliers held on until 16:30 pm. The third was at Racecourse Redoubt:
On Thursday 21st March 1918
At the Racecourse Redoubt, near Groagie, France.
For seven hours Second Lieutenant De Wind held this most important post and though twice wounded and practically single-handed, he maintained his position until another section could be sent to his help. On two occasions, with two non commissioned officers only, he got out on top under heavy machine-gun and rifle fire and cleared the enemy out of the trench, killing many of them. He continued to repel attack after attack until he was mortally wounded and collapsed. His valour, self-sacrifice and example were of the highest order.
Edmund DeWind Was killed in the above action He has no known grave.He is commemorated on the POZIERES MEMORIAL Somme, France Panel 74 to 76
MEMORIAL STONE in grounds of ULSTER MEMORIAL TOWER.
DE WIND DRIVE
Comber, County Down, Northern Ireland.
MOUNT DE WIND
Alberta, Canada.
Edmund's mother, Margaret Jane De Wind, received his Victoria Cross from King George V at Buckingham Palace on Saturday 21st June 1919. His father (Arthur Hughes De Wind, C. E.) died in 1917
*VC display at: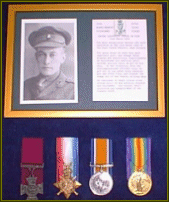 The Royal Ulster Rifles Regimental Museum
5 Waring Street
Belfast
County Antrim
Northern Ireland
BT1 2EW
Admin




Posts

: 20


Join date

: 2010-06-30


Age

: 52


Location

: Belfast





Similar topics
---
Permissions in this forum:
You
cannot
reply to topics in this forum